High School Learning Pod: (May 2021)
High School students have been gathering on Wednesdays for their own Learning Pod at OCCCDA, in collaboration with Young Life Philadelphia.  Young Life is a national mission to youth that traditionally works in high schools to reach teenagers with the Gospel and disciple them. Coming together to do their virtual learning has helped keep them going, as they miss the social interaction and support from peers and teachers in school.
Through community relationships, Young Life staff Katie Grindle and Kylie Hatfield and volunteer Josiah Cedeno have been able to invite and consistently create space for teens across the community to come do class work, hang out, and spend time with other teens in a safe way during the pandemic.  A few of the teens do an outstanding job inviting their friends and we have seen the group grow.
The pod is relatively unstructured, organically creating space so that as the weeks have gone on, the mentors have had more meaningful conversations with the teens about life, purpose, identity, and the Gospel.  "Sometimes they happen during our lunch break, or on the way to pick up Chick-fil-a, or in the last thirty minutes before parents come," says Grindle.  "No matter when they occur we always have meaningful conversation with the teens."  Through these relationships several of the teens plan to attend summer camp together; for a few it will be their first time at a Christian camp.
OCCCDA After School Program: (February 2021)
Our virtual after school program is thriving!  In addition to one-on-one academic tutoring available to every student, our kids get to take part in: yoga, dance, music, community unity, health and wellness, Engineering for Kids, and Clay Studio.
In our classes, our students are constantly moving around!  They get so excited to get up and stretch out their bodies in yoga class. They love spinning and leaping around in dance class. They have so much fun tapping their own personal drumsticks in music class. They learned how to virtually create architectural structures in Engineering for Kids class using 3-D modeling. They learned breathing techniques and mindfulness exercises in our SEL, Community Unity class. They danced Zumba in health and wellness class. And they even got air dry clay kits so they could create and paint pottery in Clay Studio Art class!
Each class we offer is exciting and engaging. Our program is the perfect opportunity for students to wind down from a long school day in front of a computer, and fellowship with their peers.
Schooling virtually has its own unique academic challenges for students. Gone are the days of teachers pulling aside students to their desks to assist with whatever they're struggling with. Therefore, we made sure to offer one on one tutoring to every student enrolled in our program, in the areas of math and literacy with our virtual instructors via zoom. The one on one attention has allowed us to personalize each lesson to the needs of each student. As a result, we are seeing much improvement and academic success. For instance, one of our special needs students could not speak a word just last year. Now, as a result of tutoring with our program throughout the summer and fall, he is writing and speaking full sentences!
Learning Pod: (December 2020)  With schools going online this year, families all around the city have been looking for different ways to adjust to going back to work and having their children take on virtual learning. In an effort to help families who, for work reasons, health or technology reasons, have found virtual learning extremely difficult, the team at the Family Resource Center opened a small learning pod to facilitate the on-line learning process.  From the beginning of the program in late September, the staff have put an emphasis on intentionally creating an environment that balances kids focusing on their studies and taking breaks. For example, for children who find it difficult to sit in one place for long periods of time, staff employed sand timers to allow the children to visually work toward a goal of sitting… and then the reward of a short brain break.
Parents have seen the value in bringing their children to the Learning Pod, and have contributed by volunteering ½ day each week. This volunteering has been a huge help to the Learning Pod and helped the staff at the Learning Pod have more hands on deck for socially distanced games for break time such as cornhole and inflatable bowling. These relationships they have built have opened doors to helping families in other ways such as applying to charter schools and connecting them with other resources such as Thanksgiving turkeys and Christmas gifts. In adapting to the pandemic, the Learning Pod has turned into a beacon of hope for the children, parents, and staff here at OCCCDA.
Pandemic Support: (October 2020)  The CARES Act stimulus checks provided crucial support for many Americans, but several key groups were omitted. These include people who are in the US without documentation, people who don't make enough money to be required to pay taxes, and people who work cash jobs and don't pay taxes. Many of these families live in Oxford Circle.
OCCCDA was invited by the National Domestic Workers' Alliance, the Philadelphia Office of Immigrant Affairs, and the Mayor's Office of Labor to help distribute private funds that had been raised in an effort to support families who did not receive CARES Act funding.
We partnered with smaller community groups and churches in the Oxford Circle neighborhood to identify those who qualified and to distribute the funds. Together, OCCCDA and its 10 partners referred over 160 families for this program, distributing $128,000.  Families who qualified received a one-time $800 debit card to use for whatever they needed. Families used their funds for food, rent and medication, many expressing deep gratitude for the life-sustaining help brought through these funds.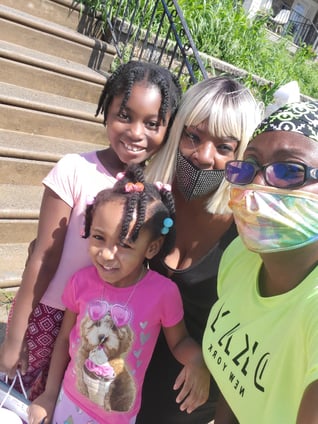 Virtual Summer Camp: (September 2020) It's safe to say that the summer of COVID-19 really tested our adaptability. With this in mind, the OCCCDA turned to apps like Zoom and Class Dojo to offer a completely virtual six-week summer camp program. A collective of 36 elementary students from grades 1-5 hailing from Oxford Circle and surrounding areas came together. Our campers made the best of their time by participating in many activities including story time, history, literacy, art, and STEM courses. Music and dance sessions were also held throughout the week all led by accredited teachers. Through the virtual program, students were able to watch videos, comment, and discuss the topics with one another during live tutoring sessions.
Group leaders also went the extra mile and provided SEL and Community Unity sessions every morning. This allowed students to interact with one another through games and activities which highlighted the after school program creed and SEL concepts. Students were excited to be able to catch up with their peers they otherwise would not have been able to see because of the pandemic.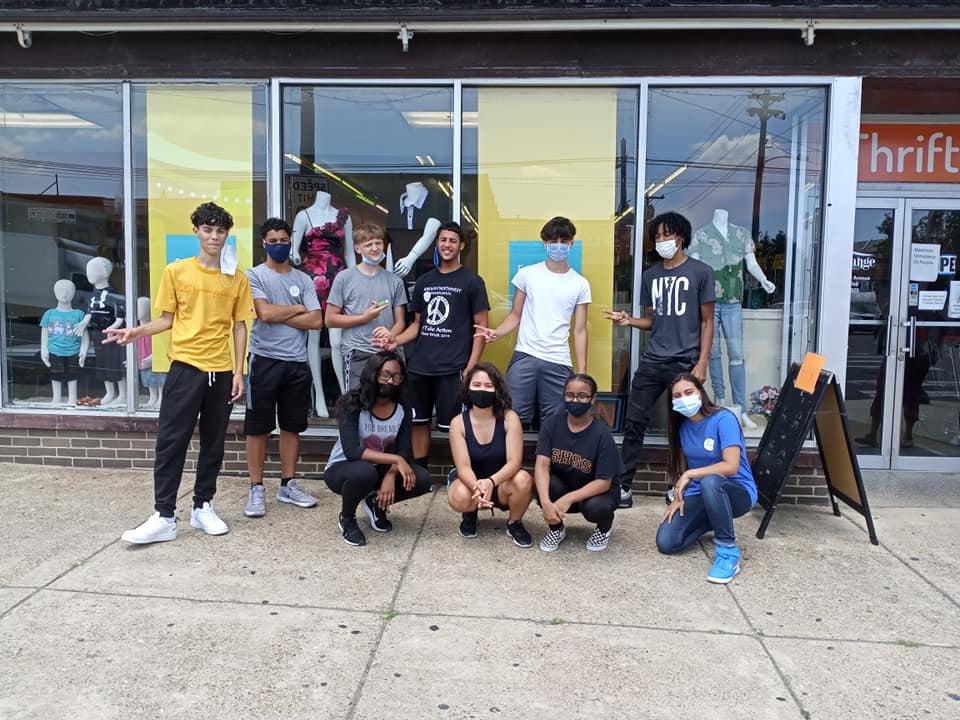 Exchange Thrift Youth Internship: (August) Through the Exchange Thrift Store, Oxford Circle CCDA (OCCCDA)  launched a five-week summer internship program. This program is aimed at training local youth ages 14-18 and focuses on retail, marketing, and entrepreneurship. Approved applicants are attending workshops that provide valuable information on marketing and financial literacy. Industry experts and entrepreneurs are also speaking to the interns, offering them advice based on their own professional experiences.
Throughout the past couple of weeks, seven interns have been working at the Exchange Thrift Store, as well as servicing the community by giving out food in partnership with the Share Food program. OCCCDA hopes that by the end of these five weeks, the interns will have cultivated character-building behaviors, as well as developed a set of business skills and a sense of professionalism that they can be used in any career path. When asked about his experiences interning at The Exchange, one intern explained he has already learned how to "treat the customer with proper etiquette and quality service"–– a crucial skill that will benefit any work environment.
M&T Bank supports this program through the PA DCED Neighborhood Assistance Tax Credit Program. OCCCDA is grateful for the opportunity to work together to provide this program and allow more young people to serve the community and develop life skills.
  OCCCDA's past newsletters: